Potrero Gateway Park is a community initiative to improve the neglected space around 101 and under the freeway, between San Bruno, Vermont, and 17th streets. Major design goals are to improve the usability, safety, and cleanliness of the open space. The project is a partnership between the community and different state and local agencies including Caltrans, Department of Public Works (DPW) and the Dogpatch & Northwest Potrero Hill Green Benefit District. The Dogpatch & Northwest Potrero Hill Green Benefit District will maintain the park.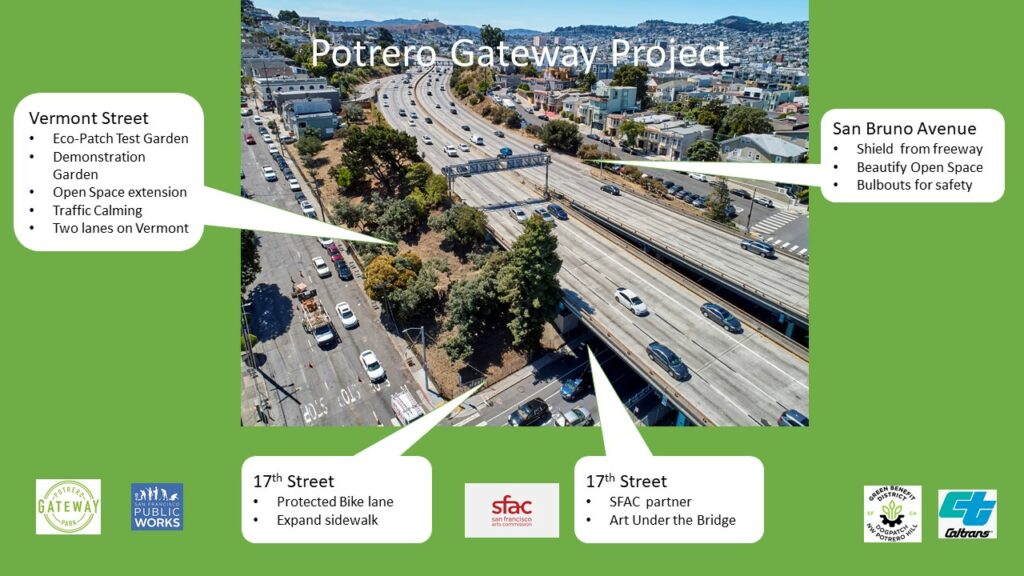 The Rectangle
The Potrero Gateway Park Steering committee voted to refocus the area to address the issues in the rectangle from 17th Street to Mariposa Street Vermont Street to San Bruno Avenue.  The issues in this area will be addressed in Phases.   We are currently in the planning stage for the project.
Phase 1
Phase 1 will address 17th Street and the two corners, Vermont and San Bruno.  Main features of Phase 1 will be
Increase the sidewalk size
Increase bike and pedestrian safety
Remove parking on the south side of 17th
Add bulbouts and greening on both corners
Phase 2
Phase 2 will address Vermont Street right of way as well as the San Bruno right of way
SF Native Habitat Serpentine Test Garden – a year long project to determine preparation methods as well as seasonal native plants
SF Native Habitat Serpentine Demonstration Garden – making use of lessons learned in the test garden,  the demonstration garden will have examples of habitat supporting plants and will have programs to help neighbors who want to support native habitat in the neighborhood.  It will provide rustic pathways to enjoy the greening.
San Bruno Anvenue Fencing will be replaced by some version of green fencing which is still under discussion
Phase 3
Phase 3 – Art Under the Bridge
The Steering Committee is working with the SF Arts Commission to come up with a solution under that bridge which adds lighting and movement and transforms the area into a destination for the community.