Potrero Gateway Park is a community initiative to improve the neglected space around 101 and under the freeway, between San Bruno, Vermont, and 17th streets. Major design goals are to improve the usability, safety, and cleanliness of the open space. Since 2019 an additional goal is to demonstrate the ecological value of using CA native plants in the landscape.
Project Components
Corner Bulbouts with retaining walls and native planting
Safe Bike Lane
Enlarged Sidewalk
Art – Murals, Mosaics, Lighting
Native Habitat Demonstration Garden
Vermont Street West Lane Greening
Green Wall/.Fence to replace chainlink
CORNER BULBOUTS
Shortening the crosswalks and reducing traffic, the bulbouts will include retaining walls featuring native plants connected to the Eco-Patch. The walls are part of the canvas offered to the artists chosen as we work wiht SF Arts Commission.
BIKE LANE & ENLARGED SIDEWALK
The team's goal is to widen 17th Street southside sidewalk to make room for two way pedestrian traffic, add a median to separate cars from bikes and insure that the turn areas used by bikes and cars are safe. The drawing below from Public WOrks and SFMTA contains ideas proposed by the team.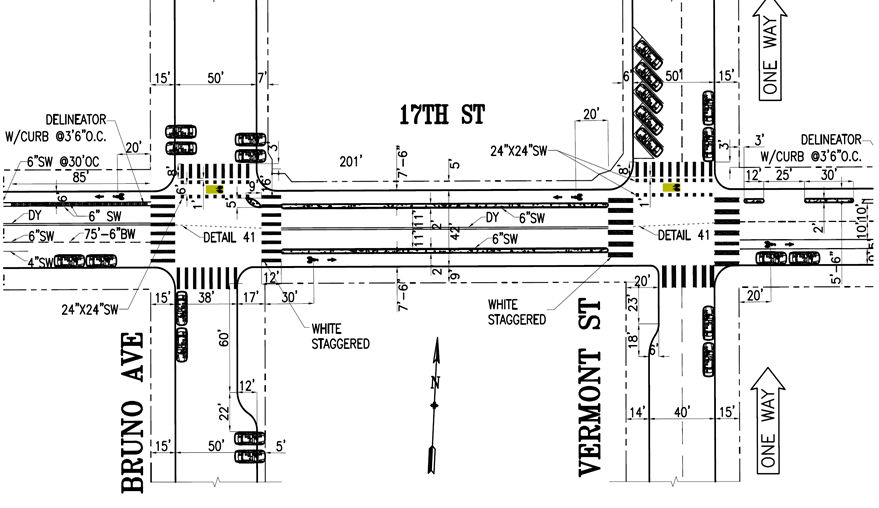 ART- Serpentine Project
Working with both Public Works and the SF Art Commission Public Art, FUTUREFORMS was chosen to create art along the 17th Street canvas which includes retaining walls, existing large pylons and lighting. More to come as development progresses
After PW needed adjustments to be made to the location of the retaining walls, Futureforms came up with a new sculpture. Their newest rendering was shared December 7 with the PGP Art subcommittee. The plants and wall color are placeholders.
Presenation of this project was made to the GBD on July 21, 2021: PW+SFAC Presentation
Native Habitat Test Garden – Eco-Patch
Initiated with the help of Field-Collective volunteer landscape architects and the Yerba Buena CA Native Plant Society, the Eco-Patch is 1000 sq ft containing eight plant archetypes. The test garden will produce examples of native plants that will prosper in local back yards and urban spaces.
For More info check:
Test Garden
Plant Mixes
April Open Garden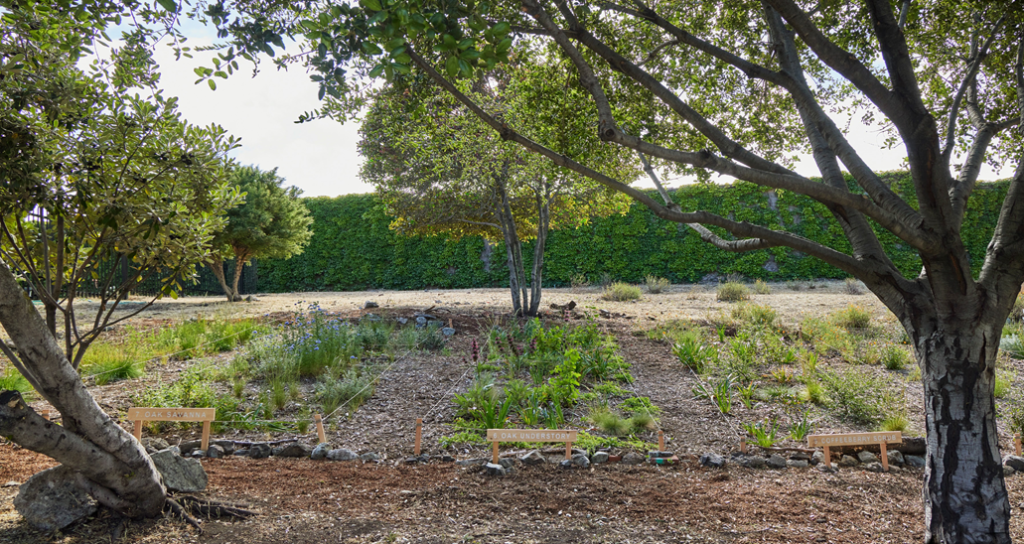 San Bruno Avenue Options for Phase 2
Public Works landscape team offered three options for San Bruno Avenue. Reactions are recorded in the April meeting minutes. The landscape team promised to come back with two alternatives.